DIS-TRAN Overhead Solutions announced early this year a new product. UltravexTM Composite Crossarms are the newest edition to our overhead product line. Since then we have been asked a number of questions in regards to this new product. Yes, we know it not a new concept, but we know that our patent pending product is engineered differently from others in the market today. So let us dig in and answer those common questions.

Top 8 Composite Crossarm Questions
1. What kind of UV Protection does the UltravexTM Composite Crossarm have?
There are 3 layers of UV protection. An outer veil protects the arms from UV and is abrasion resistant; there is UV resistant fiberglass mat that is between the outer veil and the fiberglass / resin mixture. The fiberglass / resin blend also has UV inhibiting features. Then, there is an inner mat of the same material as the outer that is between the foam core and the fiberglass / resin mixture. See our 3D rendition on our website.
2. What hardware is used for the UltravexTM Composite Crossarm?
Standard hardware that is used on your wood crossarms can be used on the Ultravex. Standard washers and bolts will eliminate the need for different hardware. Additionally, 5/8" hardware can be used for both Dead End and Tangent applications. This not only saves weight but reduces cost.
3. What safety aspects does the UltravexTM have?
Resists combustions, the arm will char on the outside but structurally will hold respected load and also self-extinguish. The shape reduces critical flash over rating, non-conductive, and superior electrical insulation. The arm resisted 367 kV and you can see below that it arced through the air instead of conducting through the arm.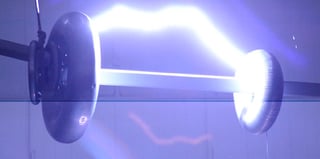 4. Since the arm is slightly domed, are special considerations needed for mounting tangent polymer insulators onto the top of the crossarm?
All four surfaces are slightly convex with a max height of 1/16" at the apex. Computing the angle to the apex indicates a 2 degree slope but since the surface is curved there is no sharp apex. There should be no concern about fit of the attaching hardware. The arm will withstand normal bolt loading without damage and there are tests showing the pins fail before damaging the arm.
5. Is it REA approved?
Our official press release was sent out March 23rd 2016 stating that the Ultravex™ Composite Crossarms are now available for use on Systems of USDA RUS Borrowers, Pub 202-1for items:
Item "g" Fiberglass Tangent Crossarms

Item "gj" Fiberglass Dead-end Assemblies.
6. How do you attach the End Caps?
The end caps are attached to the end of the crossarms by using an industrial strength adhesive that is sourced by an independent company that specializes in adhesives.
7. What happens if the arm fails in the field?
When an UltravexTM Composite crossarm breaks, it still won't drop the conductor. In fact, after unloading a broken UltravexTM Composite crossarm, you can load it again and it will have a typical residual load carrying capability in the 2,000-4,000 lb. range, which is more than an 8 ft. wood crossarm is even rated for. Intentionally broken during testing, a failed UltravexTM Composite crossarm is shown below. This is a typical failure mode of our arms, shear, and the residual load will hold more than a new wooden crossarm. The arm still has residual load carrying capability after failure and is still holding 3,000lbs as shown below. We have never been able to pull a pin through the arm in independently verified testing. This means the conductor won't fall to the ground even if something breaks the arm.


8. Where is the UltravexTM arm manufactured?
All engineering, pultruding, filling, assembly and packaging is in in the USA. We are very proud to say that our product will not be seen outside the United States unless DIS-TRAN Overhead Solutions is shipping them there.
---
As the new composite crossarm demand grows, we are sure there will be more questions and want to be able to address each and every one. If you would like to submit a question for response you can click below to email us directly or simply comment on this blog post.
We love to hear feedback from our readers and we look forward to hearing from you.