Rick Herring, shipping manager at DIS-TRAN Steel, took on the ALS Ice Bucket Challenge like a champ, but had a trick up his sleeve...
Being an "avid Alabama fab," Rick challenged all the "avid LSU fans."
And this was their response.
They say laughter is the best medicine.
This brilliant marketing campaign to not only raise funds for medical research but also raise awareness, has generated over $94.3 million so far as compared to $2.7 million that was raised this time last year. At the moment, there is no cure for ALS, nor are there many treatment options that are effective, but with this social media phenomenon, it will help make the impossible possible.
Here are a few ALS real life stories that will change you forever from the ALS Association website.
Rebecca M. Franklin, Indiana, "My Sweetheart, Jason M., was diagnosed 18 days after we found out we were expecting our daughter. He was told he had six months to two years life expectancy. Rather then to dwell on the negative, my husband wanted to live life to the fullest, to make each moment count, to make memories with our children and his Sweetheart. He didn't want ALS to define him or the time we had together. I am so grateful we lived in the moment and made each moment count. I would recommend everyone struggling with this disease to live the same way. The laundry, the dishes, the bills will still be there tomorrow, but your loved one isn't guaranteed another day, so enjoy that day with them and live in the moment. Take a ton of photos and videos. They will bring you comfort in the days ahead. Cherish these moments now."
"Two weeks before my Sweetheart died, we went on our last date. I was carrying his oxygen tank, giving him morphine by the hour, but to see the smile on his face, I will cherish it forever. My Sweetheart and I had a lifetime of dreams before this disease. After his diagnosis, he dreamed he would see our son off to his first day of kindergarten. He didn't get to see that dream and so many others, and so now my dream is to help fight for a cure, so others will be able to fulfill their dreams with their loved ones. "'Life is not measured by the number of breaths we take, but by the moments that take our breath away.'"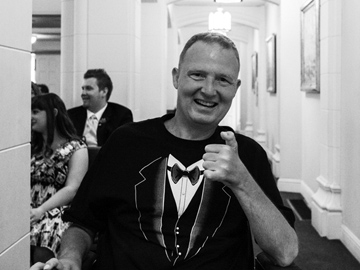 Katherine W. Orange, California, "My father, Tom Wilkes, was a world-renowned graphic artist and photographer who made his living designing, photographing and illustrating famous rock and roll album covers and art. He was diagnosed in the spring of 1998 with a preliminary form of ALS, known as PLS. It robbed him of his vitality, his inspiration, and to a great extent, his ability to create art."
"I found out in 2006 that my younger brother and only sibling, David Harrison, was also afflicted with ALS. He is my half-brother, not related to my father, and he continues his brave battle with the disease to this day. David is the longest living patient of the Oregon Chapter of the ALS Association, and he endures his illness with grace and humor, far more than I believe I could muster under similar circumstances. Until you experience this disease up-close, you don't really have any concept of the devastation it wreaks on those who have it, those who love them, and those that are the caregivers. David has taken part in clinical trials that he knew were too late to benefit him but that we all hope will further the necessary research to end suffering for those diagnosed in the future. I pray daily that a cure will be found to help those still suffering and for those who may be afflicted in the future."
Cecilia R. Orlando, Florida, "My mother's name was Yolanda Rodriguez. She was born March 15, 1946. She was 66 years old and lived in Kissimmee, Florida. Mom first started complaining of right arm atrophy and loss of right hand strength, inability to grasp objects, open car door or turn car on, unable to button blouse or wash her hair, which started gradually in the beginning of January 2012. Neck pain followed by arm and hand pain. Mom complains of her head dropping when walking and is unable to raise her head due to muscle pain. She is unable to speak clearly, slurring of speech. She is unable to swallow her food properly, which can take up to three hours. She gags and is unable to breathe easily. There was unexplained weight loss of four pounds per week for a period of six months."
"She now has lost 82 pounds and was desperate for answers and made an appointment with the neurologist for January 7, 2013, one year later after her very first condition began in her mouth. She was diagnosed with ALS on January 7, 2013 and passed on Febuary 20, 2013."
"This disease has devastated my family in more ways than one! I lost my best friend!! I miss my mother every single day. There was no warning of this devastating disease, and we knew nothing of this disease. I am a medical student and will become an integrative physician and will specialize in palliative care for ALS patients. I want and wish for a cure. I don't want another family to endure the pain this disease causes. Watching the one you love die before your eyes is the most helpless feeling a human being can face. Help us find a cure!"
If interested in learning how you can help make a difference, click here.
For those who would like to donate to the local ALS chapter in Louisiana, here is the information:
The ALS Association Louisiana-Mississippi Chapter
P.O. Box 66825 - Baton Rouge, LA 70896-6825
(225) 343-9880 or (800) 891-3746
Keep the ice bucket challenge going for all those battling ALS.